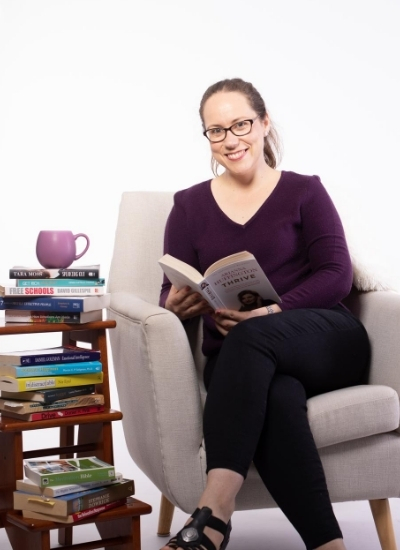 Teacher Wellbeing Coach
Self-Care for Teachers is an online teacher wellbeing hub founded by Ellen Ronalds Keene. It began life as a Facebook Support Group (now archived) and soon expanded to a podcast, coaching services and a series of wellbeing resources. 
Ellen is a teacher, wellbeing coach and passionate self-care advocate who understands the demands of the teaching profession. She has been on her own journey of illness and burnout, and knows how powerful self-care can be in reclaiming health and happiness, both in the classroom and in life. Find out more about Ellen below.
Why Self-Care for Teachers?
There's a lot of talk in the media and political circles these days that teachers need to do more, be more, achieve more. The government invests a lot of resources in the training and ongoing development of teachers, and they expect to see results.
Meanwhile, there is an increasing number of teachers suffering stress-related illness and burnout. Some of these educators struggle through at a reduced capacity, while others leave the profession for good. Either way, something clearly needs to change.
Happy, healthy people are more effective teachers and more productive members of society. Many educators put everyone else's health and happiness before their own, in the hope of making a difference. However, this is backfiring because the external expectations and demands of the job continue to increase despite the dwindling reserves of teachers.
The plane safety message is all about self-care. Fit your own oxygen mask before helping others. This is what we as teachers need to learn and practise in order for us to go on making a difference long into the future.
Our Mission
to facilitate and contribute to the conversation about teacher wellbeing, positive schools and burnout prevention

to inspire and empower educators of all kinds to take back control of their health and happiness by being proactive about their wellbeing

to give teachers permission to put themselves first, and to remind them that this benefits everybody

to advocate for teachers and their wellbeing, and to promote the teaching profession

to improve the wellbeing of staff and students to create school communities that thrive instead of just survive
The Short Bio
Ellen Ronalds Keene is a high school Music, Japanese and English teacher as well as a life coach, meditation teacher, writer, speaker and chronic disease thriver. Following some major health events during her university years, she found in the first few years of teaching that she was even more prone to burnout than most. She is passionate about preventing teacher burnout, improving teacher wellbeing and supporting teachers to overcome their barriers to self-care. She runs the Facebook support group Self-Care for Teachers and regularly posts helpful wellbeing tips, tricks and articles. When she isn't teaching, coaching or practicing self-care herself, she enjoys writing a blog and reading about health, wellbeing and human behaviour. The rest of the time she likes to hang out at home in trackie-dacks with her husband and cat.
Ellen says: "Over the last 10 years I have learnt the hard way that life is not only easier and I am happier when I look after me, but I am also able to look after others better too. I am a better teacher, colleague, wife, daughter, friend and human when I prioritise looking after myself. Self-care changed my life. I really want to help others feel better too, everywhere, but particularly in the teaching profession where I see a great need for more policies and system which support wellbeing."
Qualifications and Membership
Bachelor of Learning Management, CQUniversity

Advanced Credentialed Practitioner of Coaching, The Coaching Institute

Certificate in Holistic Counselling, MindBodyFood Institute

Certificate in Meditation Teaching and Holistic Human Development, MindBodyFood Institute

Certificate in Chair Yoga Instruction, MindBodyFood Institute

Membership of the 

International Institute for Complementary Therapists (IICT)